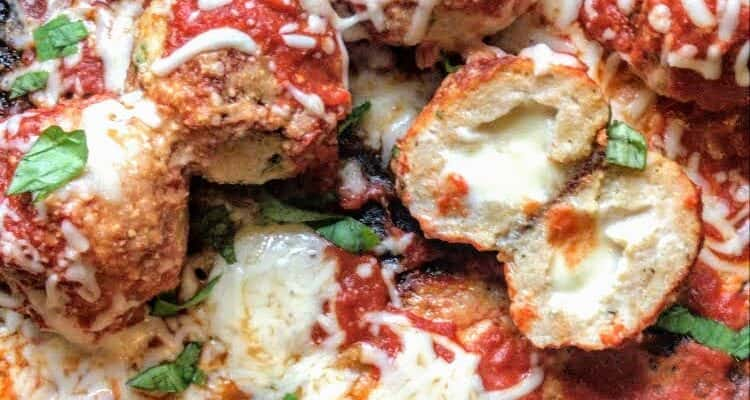 Chicken Parmesan Meatballs
Chicken Parmesan Meatballs
When two worlds collide, sometimes the results are extraordinary. Spaghetti and Meatballs is an iconic classic meal that my family loves. We have Sunday pasta basically every week. Buuuut, sometimes I want something different. That's how chicken Parm meatballs were born. I wanted meatballs,but I wanted chicken parm and so I combined the two. And I'm not mad at the results.
This recipe uses my basic meatball recipe but omits the onion and garlic puree and adds a melty, gooey cheese bomb in the center. I didn't tell my kids that I did this, and the result was such a fun surprise. They were like wait, what?!
You can serve these with a salad, some pasta, garlic bread, make them into a bomber. No matter how you serve them, I promise you will Enjoy Every Bite!
Chicken Parmesan Meatballs
INGREDIENTS
1 lb Ground Chicken
1/2 cup Seasoned Breadcrumbs
1/2 cup Panko Breadcrumbs
1/2 cup Parmesan Cheese
3 tbsp Half & Half or Milk
2 tbsp Fresh Chopped Basil, Parsley or Both
1 tsp Salt
1 tsp Garlic Powder
1/2 tsp Oregano
1/4 tsp Crushed Red Pepper Flakes
10 Grinds Cracked Pepper or 1/2 tsp Pepper
10-15 1/2 inch cubes Fresh or whole milk mozzarella cheese Can also use cheese sticks! I use Fresh Mozzarella Cheese
INSTRUCTIONS
1. Add all ingredients to the bowl.
2. Mix very well until ingredients are combined.
3. Use ice cream scoop or hands to measure out meatballs.
4. Stick mozzarella cube into the center and form ball around the cheese and roll into smooth ball.
5. Place on parchment lined or greased cookie sheet.
6. Bake at 375 degrees for 10-12 minutes.
NOTES
You can omit the cheese center if you don't have it and they will still be delicious,
You will notice my meatballs contain no eggs. My son is allergic to eggs, but if you are a firm believer in the egg in the meatball, omit the milk and add one egg.