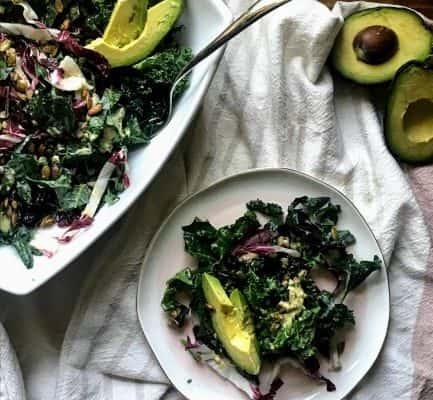 Kale and Farro Salad
Kale, Farro, and Avocado Salad with Creamy Basil Dressing
This Kale, Farro, and Avocado Superfood Salad is basically the healthiest thing you can eat, and it sure does taste delicious. I'm pretty much obsessed with Kale Salads lately, and this salad is definitely one of my favorites.
Not only is it healthy and delicious, but this Kale, Farro and Avocado Salad is a vegan friendly recipe (when you modify the pepitas and use oil instead of butter, and modify honey using agave) It's a delightful side dish or main entree for lunch and brunch. I served mine for dinner with friends with Black Bean Sweet Potato Burgers. YUM!
Basically this salad couldn't be more healthy if it tried! After you eat this salad you should basically be the healthiest person alive. I'm kidding, but really, it IS so good for you. Let's talk about the ingredients! Radicchio, common in Italian cuisine, has a bitter taste on it's own, but I love the color and texture it adds to recipes. It's packed with antioxidants that are beneficial for your heart and digestive system. Next up, farro! Farro is an extremely nutritious grain. It is an excellent source of protein, fiber, zinc, and magnesium. Welcome to the party avocado! Hello – we all know how good these babies are for you. It has all the healthy fats, vitamins, nutrients, and antioxidants your body needs!! And last but not least, kale. When I worked at my families restaurant growing up, Kale was used as a garnish. Purple kale and green kale were placed under the coleslaw on Friday nights. Never did I ever think someday it would be one of my favorite ingredients. It was highly underrated. Now, it's boasted as one of the most nutrient dense foods on the planet. Packed with good for you nutrients and antioxidants, including Vitamins A, C, K, manganese and potassium. I even planted kale in my garden this year! Hence, all the kale salads I have been making! So basically fuel your body by making this delicious and healthy salad as soon as possible!
Whenever you decide to make this recipe I am 1000% positive you will Enjoy Every Bite!
Kale, Farro, and Avocado Salad with Creamy Basil Dressing
A superfood Salad that tastes like Heaven packed with nutrient rich ingredients.
EQUIPMENT
Food Processor or Blender
INGREDIENTS
Farro
1 cup Farro precooked measurement
1 cup Water
1 cup Chicken OR Vegetable Broth
1 tsp Olive or Avocado Oil
Candied Pepitas
1 cup Raw Pepitas
2 tbsp Butter or Avocado Oil use oil for Vegan recipe
2 tbsp Brown Sugar
1 tsp Salt
Dressing
¾ cup Avocado or Vegetable Oil
½ cup Fresh Basil
3 tbsp Red Wine Vinegar
2 tsp Honey Use Agave or Maple Syrup for Vegan
1 Lemon Juiced
1 Shallot
1 Garlic Clove
½ tsp Salt
Fresh Cracked Pepper
Vegetables
4 cups Chopped Kale
1 cup Chopped Radicchio
2 Avocados Sliced
¾ cup Dried Cranberries
INSTRUCTIONS
Candied Pepitas
1. Preheat Oven to 375 degrees F
2. Melt 2 tbsp butter and mix with brown sugar and salt.
3. Toss the pepitas into the butter mixture. Make sure all coated.
4. Spread onto parchment lined baking sheets. Make sure to spread them out and not overcrowd the pan.
5. Bake for 6-8 minutes. Be sure to keep a close eye on them because they burn easily.
6. Once removed from the oven, allow the pepitas to cool completely and then break them into pieces.
Dressing
1. Make the dressing by placing all the dressing ingredients into a food processor or blender and blending until smooth.
2. Set in refrigerator until needed.
Farro
1. Rinse 1 cup farro.
2. Boil the water and broth together.
3. Add farro, salt and oil to the boiling broth/water.
4. Cover with a lid and allow to simmer for 15-20 minutes.
5. Fluff with fork.
Vegetables
1. Chop 4 cups kale. Be sure to remove the ribs.
2. Chop 1 cup radicchio.
3. Halve the avocados, remove the pit and skin. Slice into thin slices. NOTE: Must do this right before serving to because the avocado will brown. You can squeeze some lemon on it to prevent browning.
Assemble the Salad
1. Toss the kale, radicchio, and farro with the basil dressing.
2. Sprinkle with pepitas and cranberries.
3. Lay avocado slices around bowl.