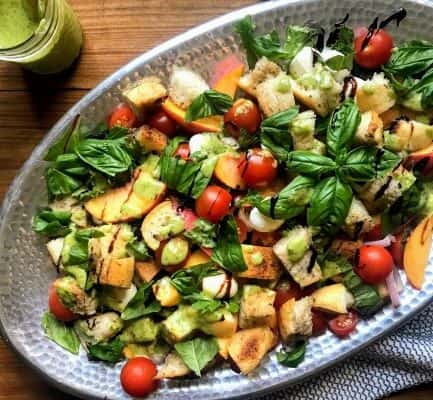 Peach Panzanella
Peach Caprese Panzanella Salad
If summer could be encompassed in a salad, this would be it. All the fresh tomatoes, basil, peaches, and topped off with even more basil in a dressing that you will want to drink! Not to mention, this salad is absolutely stunning. When you place this in front of your guests there will be ooohhhs and aaaahhhs. Guaranteed. So what exactly is a caprese panzarella?!
Caprese is a salad consisting of tomatoes, fresh mozzarella, and basil. It literally means 'of Capri'. Most likely named after a salad madein Caapri with cheese called cacio with tomatoes. Panzanella, or panmolle, is a Tuscan bread salad, traditionally using stale bread that soaks up oil and vinegar. This is a version of both salads combined but adding peaches to sweeten things up a bit.
Let's talk about the produce. It's very important to have the freshest tomatoes and peaches for this salad. The texture is important. The tomatoes and peaches need to have a ripe, but firm texture. If they are mushy, it will not be the same.
Make this for your summer parties or even for an easy dinner at home. No matter what you make it for everyone will surely enjoy every bite!
Peach Caprese Panzanella Salad
INGREDIENTS
3 cups Your favorite crusty bread I used a crusty Rosemary loaf from Wegmans
3 cups Fresh Basil 2 cups for dressing, 1 cup torn or chopped for salad
2 cups cherry tomatoes halved
3 peaches sliced- about 8-10 sliced per peach
2 cups fresh mozzarella ciliegine or pearls Can use cubed fresh mozzarella
2 shallots 1 sliced, 1 for dressing
1 garlic clove
1 lemon
1/2 cup avocado oil
2 tbsp red wine vinegar
2 tbsp olive oil for tossing the bread in
2 tsp honey
1 tsp red pepper flakes
1/2 tsp salt
1/2 tsp pepper or 10 grinds fresh cracked
Balsamic Vinegar For Drizzle – Optional
INSTRUCTIONS
1. Cube two cups of your favorite crusty bread. Toss in 2 tbsp olive oil and lay on sheet pan. Bake for 6-8 minutes at 375 degrees F until lightly browned. Allow to cool completely.
2. In a food processor or blender, add 2 packed cups basil leaves, 1/2 cup avocado (or olive) oil, 2 tbsp red wine vinegar, juice of 1 lemon, 1 shallot, 1 garlic clove, 2 tsp honey, 1 tsp red pepper flakes, 1/2 tsp salt and 1/2 tsp pepper. Blend for one minute. Add salt and pepper to your liking.
3. Slice 2 cups cherry tomatoes in half.
4. Thinly slice 1 shallot.
5. Slice 3 peaches into about 8-10 slices each.
6. Tear or chop 1 cup basil.
7. Toss tomatoes, peaches, shallot, bread cubes, mozzarella, and basil. Place onto serving platter.
8. Drizzle with balsamic and the basil dressing. Sprinkle with salt and cracked pepper.