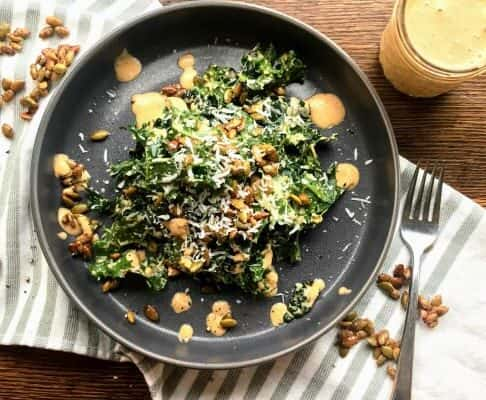 Spicy Caesar Salad
Spicy Kale Caesar Sald
This Spicy Kale Caesar is one of my most popular recipes. It's relative, the Kale Caesar, has been all the rage the past few years. I was first introduced to the Kale Caesar Salad a few years ago at a local restaurant called The Grange in Hamburg, NY. (My favorite restaurant – seriously if you're local and have never been there, I highly recommend. And you must try the hummus bowl and kale Caesar.) The kale Caesar at The Grange restaurant ignited my obsession for Kale salads. Seriously though, I have three on my website so far, and it's just a few months old! Here are the links for the other Kale Salads that are to die for!
It's no secret that I like a little spicy sauce (hello spicy aioli on all things), so naturally I had to spice up my kale salad. My original Caesar dressing is nothing short of perfect either, but this is an option when you want a kick!
It makes a terrific side dish with any grilled meats or fish. You can also serve as a topping on a taco – anything is fair game, really!! You can't go wrong. You can top it with grilled shrimp or salmon, steak or chicken. Make tacos and instead of lettuce top them with this! The options are endless.
One of the best parts is the candied pepita crunch on top of the salad. I mean these things are so good, I eat them by the handful! And you will, too! Consider yourself warned!! You have to be careful when you make these babies, because they can burn easily ( I am speaking from experience). Watch them closely, all ovens differ in their cooking.
So make this Spicy Kale Caesar for your next lunch, dinner, snack, picnic or whatever! Whatever you make it for, I am sure you will Enjoy Every Bite!
Spicy Kale Caesar Salad
EQUIPMENT
Food Processor or Blender
INGREDIENTS
Dressing
1 cup Vegetable Oil
⅔ cup Nonfat Greek Yogurt
¼ cup Parmesan Cheese Grated
1 tbsp Red Wine Vinegar
½ tbsp Adobo From Chipotle Add the pepper too, if you want extra spicy
1 tsp Mexican Chili Powder
1 tsp Dijon Mustard
1 tsp Anchovy Paste
1 tsp Cayanne Pepper Add less if you want less spice
½ tsp Corriander
½ tsp Salt
½ tsp Black Pepper
1 Lemon Juiced
1 Garlic Clove
1 Shallot
Candied Pepitas
1 cup Pepitas Raw
2 tbsp Butter Melted
2 tbsp Brown Sugar
½ tsp Salt
INSTRUCTIONS
1. Preheat oven to 375 degrees.
2. In a food processor add the ingredients for the dressing and blend for one minute. Set into refrigerator.
3. Melt Butter for pepitas and add the brown sugar and salt.
4. Toss pepitas into butter mixture and spread onto parchment lined baking sheets. I use two so they are spread out.
5. One they look caramel in color they are done. It's important to take them out before they burn. It happens quick. Once they are out they need to cool completely. They may be stuck together, you will break them up.
6. Toss the kale with the dressing and massage into the leaves. Sprinkle with the pepitas.